"A gunge lovers' delight"
A fun game with a model known for enjoying the gunge! A very funny scene showing just how much fun gunge is.

iain-ecgunge
1/8/17
"So that's how you get green bananas."
A silly scene as the girls search for bananas in the gunge, lots of symberging, handstands and the like

iain-ecgunge
1/8/17
"A fun swimsuit dunkng scene"
A fun scene with the dunk tank, lots of close ups and angles as Sophia climbs back onto the seat. Includes some swimsuit filling in the tank which is rather nice.

iain-ecgunge
1/8/17
A nice fun scene with a play along at home quiz, classic gameshow style, albeit with a nicer outfit!

iain-ecgunge
1/8/17
A fun Jess West scene where she's quizzed on the A to Z of sex, lots of gungings and stripping (and they weren't the answers!) In a scene that is nicely naughty.

iain-ecgunge
1/8/17
Dynamo plays the naughty or nice game, well I don't think anyone who qualifies under nice would be wearing that outfit! The nerves are clear to see as Dynamo sits above the gunge and equally the fun is evident once she's in the goo.

iain-ecgunge
1/7/17
A fun game with constant mess and playful throughout. Shame Chrissy doesn't go fully under, although the gunge is deliciously thick which probably saved her!

iain-ecgunge
1/7/17
This really is a scene of infectious laughter, there's no game, nor plot it's just two girls trying to stand up in a bouncy castle that just happens to have some gunge in it! Dresses ride up and turn quite see-through and it's just good silly messy fun!

iain-ecgunge
1/7/17
"Nervous dunking to a playful finish"
The scene starts rather dry (the performance as well as the girls) but I think that's just nerves as once the inevitable dunking happens, things are much more relaxed and the girls become more playful. Nuce to see multiple camera angles used and it's clear that there was no rigging of the cards!

iain-ecgunge
1/7/17
"Very funny piestravaganza of epic proportions"
A three scene collection with two fun girls delivering a great unscripted performance. Pies galore, with a pillory, there's the belly laughs you only get from someone taking advantage of a situation to mess up a friend. The pies include some fantastically sticky concoctions that look fun to play with. Part one is nearly twenty minutes of pieing a pilloried Ari. Part two see's the positions reversed with many more pies plastering Dynamo, There's great chat between the girls throughout. If you ever need something to make you laugh, part three is the scene for you! Starting with a pie hopscotch fight as the girls follow a trail of pies to... a bouncy castle! The castle scene is very much a gigglefest!

iain-ecgunge
1/7/17
"A great fun dunking game"
Jess West looking great in Lycra in another playful performance on, or rather in the dunk tank. It's another fine quiz, topped off with a playful Jess clearly enjoying the clay as she fills her swimsuit. There are lovely close ups throughout.

iain-ecgunge
1/7/17
"Jess West dunked at her best!"
Jess West at her most playful in a lovely Lycra outfit, clearly nervous for the inevitable dunking, but it adds to the fun of the scene. There are great reactions throughout, silly quips and I doubt many will be disappointed to learn that there are some nice angles of Jess climbing back onto the seat! One of my favourite Jess West scenes.

iain-ecgunge
1/7/17
"Lovely clay dunking quiz"
A fun little outfit showed off full in the opening moments before a fun quiz that you can play along with at home! It's obvious that Sophia is enjoying the experience in what is a fun scene.

iain-ecgunge
1/7/17
It's always nice when seasoned sploshers show the nerves that are natural in that situation, there's something about the squirms that come when in a position of inevitable gunging! It's a fun quiz, another that you can play along at home too! Of course, being sat on the seat above a huge tank of gunge does rather cloud the brain somewhat! The interaction between the girls is great throughout. As with part one, the lighting helps bring out the shine in the outfits and shows off the gunge nicely.

iain-ecgunge
1/7/17
"Nice fun gungetank game"
A fun game with nice outfits and playful girls, plat along at home if you like and see if you can beat the girls! Nice to have a sudden gunge drop rather than the pause that some producers require. It's worth pointing out that the scene is well lit, which helps to show off the shiny outfits nicely.

iain-ecgunge
1/7/17
"An undeniably hot, sexy, slimy treat!"
These lovely ladies know how to turn up the heat. They spend both spend most of the video in the gunge tank, and when they're not dunking or pouring slime over each other, they're playing with one anothers' tits. There's a ton of hot hands-on action, but the really steamy bits are where they're both up to their necks in the gunge, grinding one one another. The mind races as it contemplates what amazing things they're doing under the thick, slippery slime.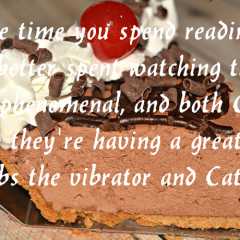 WritesNaughtyReviews
3/26/16
"A must have if you like seeing cute girls having fun in the mud!"
Deadley Desire is a joy to watch in this video. For starters, she's absolutely adorable. Her eyes and her smile are both wonderful, and they really pull you into the fun with her. Every time she gets dunked into the tank, she goes completely under the clay, and it looks beautiful sliding down over her skin when she emerges again. Her choice of outfit is also very nice I love watching the clay flow down into her cleavage and ooze out the lace front of her top. The top also doesn't overstay its welcome; it comes off about a third of the way through the video, and you get to enjoy D.D.'s beautiful tits as she dips into the clay over and over again. I'll admit it: I'm a filthy pervert and I kept hoping the bottom would come off too. I think the bottom had the same idea, since it keeps threatening to slip off. Even though D.D. never gets naked or super-naughty (sadly), this is still a really hot video.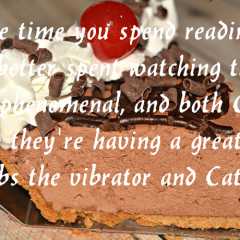 WritesNaughtyReviews
3/25/16
"Harley really knows how to have fun in the gunge tank!"
Harley is super cute, with a great smile, sexy curves and really nice tits. The thick green gunge suits her very well, especially once it saturates her red hair. She dunks completely under quite a few times, and it never gets old. She gets plenty of slime poured over her too, and the combination of the dunks and the pours mean Harley spends almost the entire video completely covered in gunge. It's really hot, and anybody with a pulse and a taste for slime will enjoy it.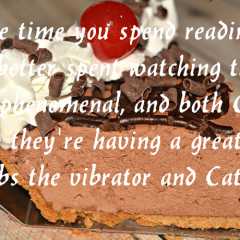 WritesNaughtyReviews
3/25/16
"Sexy, slippery, and super satisfying!"
Watching Jenny get sit down in the gunge tank for the first time is a rare treat. She seems a little slime shy at first, and keeps it off her face, but more than makes up for it by directing the full stream of slime straight down her shirt. This was a good choice. Jenny's tits are absolutely magnificent, and they look great covered in gunge. Her shirt comes off for the last sliming, and she spends the last quarter of the movie massaging gunge into her glorious bosom. After watching this, I really hope Jenny's first time in the gunge tank isn't her last.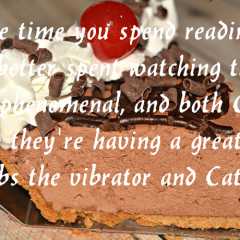 WritesNaughtyReviews
3/25/16
"Gorgeous Girls in Glistening Gunge!"
Both ladies spend most of the video topless and in the tank. They each dunk under completely several times, and fans of complete coverage and submersion will not be disappointed. I really enjoyed seeing the slick, slimy gunge running down their faces, and there was plenty of slippery tits to make me happy too. All in all, it's a lot of fun to watch and I recommend it!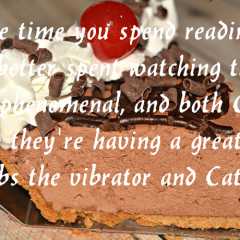 WritesNaughtyReviews
3/25/16